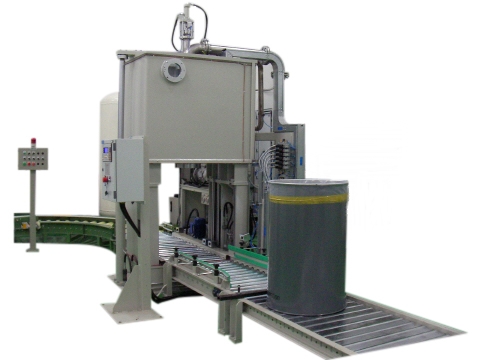 VACUUM DRUM FILLING type RFV
The packaging machines for drums/cans of the RFV series are used for packaging high viscosity products in 200l industrial drums or small metal drums.
They are available both in the weighted version, with single or dual stage filling nozzle
They can be equipped with:
• hydraulic cutting product systems (wire cutter),
• an inliner welding system,
• roller table for the movement and accumulation of empty and packaged drums,
• weighted systems for the final weight control,
• nozzle heating systems (for thermosetting products),
• sealing cover application systems.

You are interested in the product "RFV" ?
Contact us to know all the specifications and detailed information.
Turello s.r.l. Via dell'Industria, 7 - 33030 Coseano (Ud) - Italy
tel. 0432 861416 - fax 0432 861963 - P.I. 02061280307.
Copyright © 2021 Turello. All rights reserved.